MARINES AND SAILORS


This photo appeared in several places recently with the caption, "U.S. Marines pray over a fallen comrade at a first aid point after he died from wounds suffered in fighting in Fallujah, Iraq, Thursday, April 8, 2004." While it tells of a poignant moment experienced by our Marines, it does not tell the whole story.


Notice that the individual standing second from right has a pair of bandage scissors and a rubber Penrose drain (used as a tourniquet to draw blood and start IVs) in his left breast pocket. Also, note that the individual kneeling at right and the one kneeling third from right are wearing rubber surgical gloves. These personnel are Sailors-hospital corpsmen. As they have for nearly 106 years, Navy hospital corpsmen have served alongside their Marines, sharing the risks of battle and the pain of loss.

During recent combat action in the Al Anbar Province of Iraq, HM3 Fernando Mendez died as a result of a gunshot wound while assigned to Echo Company, 2d Battalion, 4th Marines, 1st Marine Division. HM3 Mendez was assigned to 1st Marine Division as an augmentee from Naval Medical Center San Diego.

As we go about our daily business at the Navy Memorial, honoring men and women of the sea services, let us not forget that the service and sacrifice of our Marines and Sailors is not confined to the conflicts of distant history. It is lived out each day around the world.


_____________________________________



01/03/05 - Petty Officer 2nd Class James Lambert examines a local man complaining of vision problems during a visit to a settlement near Khowst, Afghanistan, on Jan. 3, 2004. Lambert, a Navy hospital corpsman with Headquarters and Service Company, 3rd Battalion, 3rd Marine Regiment, is providing rudimentary medical treatment to Afghans.
_________________________________________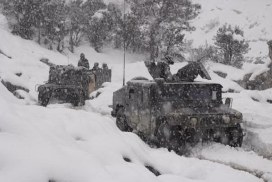 12/30/04 - U.S. Marines conduct a mounted patrol in the cold and snowy weather of the Khowst-Gardez Pass in Afghanistan on Dec. 30, 2004. Marines of the 3rd Battalion, 3rd Marines, are conducting security and stabilization operations in support of Operation Enduring Freedom. DoD photo by Cpl. James L. Yarboro, U.S. Marine Corps. (Released)
__________________________________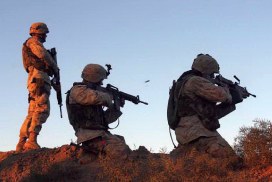 12/01/04 - Marines with Bravo Company, Battalion Landing Team, 1st Battalion, 2nd Marine Regiment, 24th Marine Expeditionary Unit, fire on enemy insurgents who are attacking the Marines with indirect and small-arms fire in the town of Jurf as Sakhr, Iraq, Dec.1, 2004.