United State's Chief Petty Officer....
Sorry, but this page is slow to load...go ahead and read all the info while the images load....




Many have asked me what the Chief's anchor (above) is....


The Fouled Anchor is the emblem of the Rate of Chief Petty Officer of the United States Navy. Attached to the Anchor is a length of chain and the letters U.S.N. To the novice, the anchor, chain and letters only identify a Chief Petty Officer of the United States Navy, but, to a Chief, these have a more noble and glorious meaning.

The "U" stands for Unity, which reminds us of cooperation, maintaining harmony and continuity of purpose and action.

The "S"stands for Service, which reminds us of service to our God, our fellow man and our Navy.

The "N" stands for Navigation, which reminds us to keep ourselves on a true course so that we may walk upright before God and man in our transactions with all mankind, but especially with our fellow Chiefs.

The Chain is symbolic of flexibility and reminds us of the chain of life that we forge day by day, link by link and may it be forged with Honor, Morality and Virtue.

The Anchor is emblematic of the hope and glory of the fulfillment of all God's promises to our souls. The golden or precious Anchor by which we must be kept steadfast in faith and encouraged to abide in our proper station amidst the storm of temptation, affliction and persecution.



Me and my best friend Aaron




WHEN THE LORD CREATED CHIEF PETTY OFFICERS


When the Lord was creating Chief Petty Officer, he was in his sixth day of overtime when an angel appeared and said " you're doing a lot of fiddling around with this one." And the Lord said "Have you read the specs on this order?" "A Chief Petty Officer has to be able to work 12-24 hours per day, through any type of weather, on any ship or boat, know the laws of the sea, be able to load and unload hundreds of tons of cargo after being up all night, and then try to get some sleep in an area that is accessible to and is used by all crew. He has to live in his shop, if need be, 24 hours a day, seven days a week for days on end, offer advice and counseling and still meet time schedules, maintain an even and controlled composure when all around him have gone mad. And he has to be in top physical condition at all times, running on black coffee and half-eaten meals. And he has to have six pairs of hands."
The angel shook her head slowly and said "Six pairs of hands...No way."
"The hands are not causing me the problem," said the Lord, "It's the three pairs of eyes a Chief Petty Officer has to have."
"That's on the standard model?" asked the angel.
The Lord nodded and said, "One pair that sees the herd of whales or a boat in peril, another pair that can see the blind spots that dolphins and young sailors love to hide in, and another pair in front that can look reassuringly at the young bleeding sailor, who is injured, by saying "You'll be okay" when he knows it isn't so."
"Lord," said the angel, touching his sleeve, "rest and work on this tomorrow."
"I can't" said the Lord. "I already have a model that can steam his ship 700-800 miles a day without an incident and raise his family of five, seldom seeing them, on less than $2000 per month."
The angel circles the Chief Petty Officer slowly, "Can he think?" She asked.
"You bet" said the Lord. "It can tell you how to secure for sea, recite Navy Regulations and the UCMJ in its sleep, deliver his assigned cargo, be a parent, offer timely advice to young sailors and junior officers, help search for missing children, defend women's and children's rights. Tries to get 8 hours of rest, when he can, and raises a family of law respecting citizens while seldom ever going home... And still keeps a good sense of humor. This Chief Petty Officer also has phenomenal personal control. He can deal with port calls in areas created from scenes painted in hell, comfort the injured, their family and friends, and then read in the daily paper how the military is no more than baby killers with guns and have no respect for others."
Finally, the angel bent over and ran her finger across the cheek of the Chief Petty Officer. "There's a leak," she proclaimed. "I told you that you were trying to put to much into this model."
"That's not a leak," Said the Lord, "It's a tear." "It's for bottled up emotions, fallen comrades, for commitment to that piece of cloth called the Flag, for justice and for the families without fathers."
"You're a genius," said the angel.
The Lord looking somber said "I didn't put it there."


__________________________________________________________________

TOP: Russ, my neighbor and father figure, and my best friend Aaron pinning me.

BOTTOM: Michelle and Terry, Aaron's parents and our second family

__________________________________________________

THE CHIEF PETTY OFFICER'S PLEDGE




I AM A CHIEF PETTY OFFICER IN THE UNITED STATES NAVY...

-- I serve my country and her people with pride and honor.
-- I seek no special favors.
-- I make things happen, and do the best I can do.
-- I am charged with a leadership role like no other in the world.
-- I develop junior officers and mold my sailors.
-- I acknowledge full responsibility for the actions of my sailors...
-- Because these sailors are the seeds of future Chief Petty Officers.
-- I live by the Navy's core values of honor, courage and commitment.
-- I set the example.
-- I establish the standards of performance.
-- My sailors are students and I am their teacher.
-- I guide and influence the lives of these young men and women.
-- In the final analysis, I will determine the quality of these sailors.
-- They look up to me because I treat them with dignity and respect.
-- Because they need a leader, I am there for them.
-- After all...



I AM A CHIEF PETTY OFFICER IN THE UNITED STATES NAVY...

_________________________________________________




TOP: Millie and Russ, my neighbors and second family...

_______________________________________________




TAKING CARE OF SAILORS AND THEIR FAMILIES...IT'S WHAT WE DO.


One day a Naval Officer passed by a work station and spotted a Chief Petty Officer that had just given the command "Fall-out, carry out the Plan of the Day." Impressed by the CPO's command presence he asked, "Have you ever thought about becoming an officer?"
In response, the Chief asked, "Do you know who I am? Do you really know who I am and what I do?" I am the backbone of the Navy. My fellow enlisted Sailors and I keep our Navy running. Without us, you don't have a Navy...you have a group of officers with no one to lead, delegate to, or command. I am more than 100,000 strong.
In times of need I've done your job in the time of war. Without me, you can't go to war. The next time you ask a Chief Petty Officer about becoming an officer, ask yourself, "Can the Navy afford to lose this CPO from its ranks?" I'm all for the "grow your own" concept, but sometimes robbing one pot to fill another is not the right way to do things. And if you still feel the need to ask the question of a Chief Petty Officer, be careful how you ask it because sometimes, intentionally or not, it comes off condescending and insulting.
I don't know how many times an officer has asked me, "Why didn't you ever apply for an officer program? It's not too late." As if by not doing this, I have somehow wasted my time in the Navy or settled for less. I've settled for nothing and worked damn hard to get where I am. I aspire to be exactly what I am, and strive daily to improve myself and those around me. I have never regretted being an enlisted Sailor. So, again I ask, "Do you know who I am?"
Obviously you don't or you never would have asked me about becoming an officer. You would have known that you were asking me to give all this up for a salute and a bigger paycheck. For many of us, the price of becoming an officer is just too high. Now, let me ask you a question, "Have you ever thought of giving up your commission and becoming a Chief?" If that offends you, think about how I feel when you ask me the same thing.


__________________________________



Aaron on his pinning day...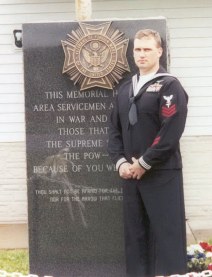 Memorial Day Weekend 2003: First Class Petty Officer (E6)...The LAST time I would wear this uniform due to the fact that I became a
CHIEF PETTY OFFICER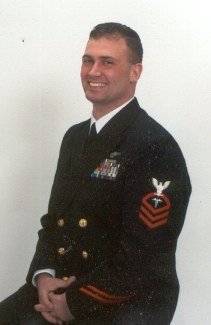 December 26, 2003: First photo in Dress Blues as a Chief Petty Officer (E7)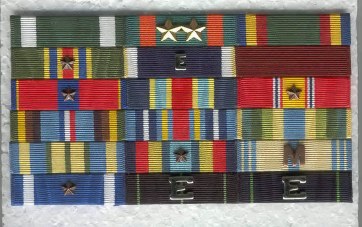 Chief Petty Officers

are enlisted warriors who lead and

manage the Sailor resources of

the Navy they serve

As such, Chief Petty Officers are responsible for, have the

authority to accomplish and are held accountable for:


Leading Sailors and applying their skills to tasks that enable mission accomplishment for the U.S. Navy
Developing enlisted and junior officer Sailors.
Communicating the core values, standards and information of our Navy that empower Sailors to be successful in all they attempt.
Supporting with loyalty the endeavors of the chain of command they serve and their fellow Chief Petty Officers with whom they serve.