HOSPITAL CORPSMAN'S PLEDGE

"I solemnly pledge myself before God and these witnesses to practice faithfully all of my duties as a member of the Hospital Corps. I hold the care of the sick and injured to be a privilege and a sacred trust and will assist the Medical Officer with loyalty and honesty. I will not knowingly permit harm to come to any patient. I will not knowingly partake of nor administer any unauthorized medication. I will hold all personal matters pertaining to the private lives of patients in strict confidence. I dedicate my heart, mind, and strength to the work before me. I shall do all within my power to show in myself an example of all that is honorable and good throughout my naval career."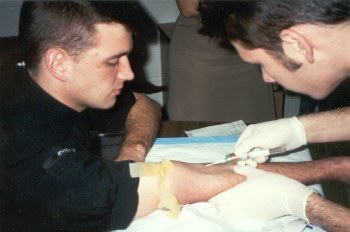 Blood draw (training) during Hospital Corpsman A School, October 1994.
HM2 administering Anthrax #3
_____________________________________________________________
Pictures of our VFW (Veterans of Foreign Wars), Post 2338 in West Winfield NY
_________________________________________________________
Ricky and me, last time we would wear this uniform, thank God!
THE SAILOR'S CREED, modified by Rob...

I am a United States Sailor


I am part of not only one of the largest organizations, but the most powerful Naval Force on the face of the Earth. I am one member of a cohesive team that has worked together for hundreds of years, even before the official formation of the United States Navy. We carry on the tradition in the proudest manner possible.

I will support and defend the Constitution of the United States of America and I will obey the orders of those appointed over me.

I will do whatever it takes to defend my country's honor and the inherent rights that each American is born with. I will fully support the Chain of Command and the missions we are tasked with.

I represent the fighting spirit of the Navy and those who have gone before me to defend freedom and democracy around the world.

We as Sailors fight to the end. We fight for honor, we fight for freedom, we fight for those who can not fight for themselves. I will proudly carry on in the tradition of the countless Sailors who have come before me.

I proudly serve my country's Navy combat team with Honor, Courage and Commitment.

I am proud to be serve side by side with the best men and women serving our country today. We serve with Honor, conducting ourselves in the highest ethical manner with accountability and integrity. We serve with Courage, meeting the demands placed upon us, without regard to personal consequences. We serve with Commitment, supporting the Chain of Command, caring for our people, showing respect and working as a team.

I am committed to excellence and the fair treatment of all.

I will serve with excellence, striving to be do my best and expect the same from my people. I will ensure they have the tools and training to complete their tasks. I will treat each one fairly, as a human being and shipmate, without regard to race, religion or gender.